With some big names movies from Marvel coming around earlier next year, the excitement for any comic lover is without a doubt very high. With Iron Man 3 being the first to release to screens, in what seems like the Marvel takeover. There are heroes, that we still are waiting for to see their chance on the big screen. Aside from the one we know are coming out (Captain America: Winter Soldier, GOTG, Thor: The Dark World, The Wolverine). A lot of people speculate as to which one of our heroes film will follow after. Well as you all know at this year comic-con in San Diego, we got a chance to see test footage for a Ant-Man film, which is rumored to release sometime in 2015. Now let's step back for a minute, back in 2010 after Iron Man 2 was released Kevin Feige left us with a comment after being asked "Did he make all the films he originally wanted to make" he responded "We have! I mean, there are certainly others like Guardians [of the Galaxy], like Inhumans, like Doctor Strange that we haven't yet, but I am confident that we will. So there's a lot of satisfaction now, on the eve of Avengers, that this thing that was deemed impossible has actually occurred." This was the first time that we heard anything about a GOTG film, and as he said it came. Even though I'm still confused as far as the line-up goes for Guardians Of The Galaxy, and why the concept art was missing Warlock, I'm still excited about it because Thanos was announced as the villain. Which even makes it more weird, because as we all know Thanos and Warlock has a somewhat mutual relationship.
Enough of me babbling on, so with GOTG checked off the listed that leaves us with Doctor Strange and the Inhumans. A great way to have knocked a Doctor Strange film or at least introduce him in my opinion would have been to do an adaption of "The Defenders", which team consisted of Doctor Strange, The Hulk, Namor, and a late but great addition The Silver Surfer. I think that film would be great, especially after a second Avengers movie.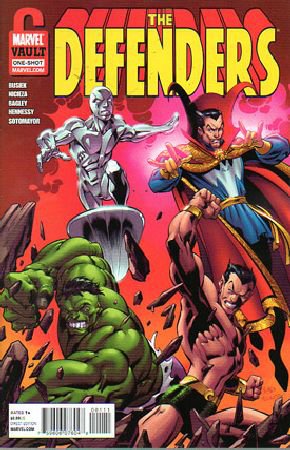 As far as a Inhuman film would go, I'm all for it. Not only will I get to see one of my favorite characters come to screen, but I think it will be interesting to see how they go about introducing Black Bolt. Who cannot utter a whisper without causing damage to whatever is in front of him. The film would most likely focus on the royal family, and probably will have some adaption of one of the series we've seen. Which one, I have no clue but I'm sure it would be something to go see.
Some of you may ask why haven't we seen any of our other characters hit the screen. Such as some B-list or A-list heroes, and why are they focusing on galactic heroes. I truly don't know, when I asked Agent M(Ryan Penagos) via twitter "Why haven't we seen a Luke Cage movie yet?" he responded "There's no specific reason. We have 8,000 characters. Very few have had their own film. Hopefully in due time." So maybe somewhere down the road, your favorite hero script is sitting on some directors desk, just waiting to get their shine. I don't know about you'll but I'll be the first one, waiting in line to hear "Sweet Christmas" on the big screen.
Thanks for taking the time out to read this, if you enjoyed it don't hesitate to hit that follow button. Or you can check out all the updates on twitter at @POMDBlog. Thanks and enjoys!